Starting March 20: E-Discussion on Climate Resilience
Join us for our e-discussion on Climate Resilience starting March 20. Experts from Cambodia, Nepal, Jamaica and Saint Lucia will share their experiences and lessons learned from the implementation of Decentralized Water Resource Management projects in their countries and regions.
Learn and discuss with our practitioners how resilience can be built in communities most vulnerable to climate change and disasters. We also welcome your participation by sharing your experiences – not only in Water Resource Management, but also from other Climate Resilience projects. We aim for a lively knowledge exchange with your questions and contributions. This will be a great opportunity to get to know colleagues with similar tasks and challenges ahead and to share experiences.
Join our e-discussion now
What are the challenges encountered in designing and implementing decentralized water resource management projects and solutions in your communities/country? Please share your experiences in addressing these challenges.
Want to be part of our e-discussion? Sign up today
The Art of Knowledge Exchange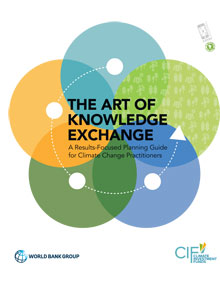 The new guide Art of Knowledge Exchange by the Climate Investment Funds offers climate change practitioners a practical step-by-step framework with illustrative examples on how to design, implement, and measure progress with regard to knowledge exchange initiatives. While the guide contains information that is of value to all those involved in knowledge exchange from the local to the global level, it is particularly geared to those who broker the exchange of knowledge and expertise on development challenges and solutions in the areas of clean technologies, climate resilience, energy access, and sustainable forests.

Download The Art of Knolwedge Exchange (pdf, 6.8 MB)
The Power of 10: Shaping the Future of Climate Action
On January 28-29, 2019 the climate conference of the Climate Investment Funds (CIF), together with the Government of the Kingdom of Morocco, took place. Watch the opening session and other videos from the event on our Youtube Channel. See more