Blog » The market matures for microfinance: Tajikistan
The market matures for microfinance: Tajikistan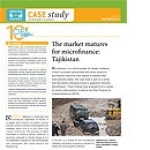 Microfinance is a critical enabler of climate resilience, in that it provides communities with direct access to the financial resources they require to address their most pressing needs. This case study is part of a series that documents emerging trends in adaptation-directed microfinance. These findings have emerged from a variety of country interventions funded by the Pilot Program for Climate Resilience (PPCR).
Key findings
PPCR funds have accelerated financing for adaptation solutions through intermediated finance that extends beyond local banks to include microfinance institutions.
Microfinance for adaptation is a product of mature domestic microfinance institutions (MFIs) and a policy environment that enables MFIs' role in building resilience.
Investment priorities need to be clearly established or refined, to guide finance institutions and promote key areas for resilient investment.
Government absorptive capacity should be developed through projects aimed at providing evidence to support decision making and the means for interpreting this evidence.
Capacity-building efforts need to be implemented across all prioritized sectors to enhance sectoral expertise.
At community, household and individual levels, NGOs can drive awareness raising, capacity building and proposal preparation for accessing concessional microfinance, and can fulfil the role of disbursing sub-grants.