Secure tree tenure equals better future for women cocoa farmers in Ghana
by Rocio Sanz Cortes 
As we got out of the car and started walking to a cocoa farm in Ghana's Western Region, I was happy to see some female cocoa farmers welcoming us. What a pleasant surprise! 
Knowing that it is not easy for women in West Africa to own or access productive land for their own use, I was very glad to see that FIP is directly benefiting them.
Typically, women in West Africa have use rights to land through their husbands, fathers or brothers [1]. In Ghana, most land and/or home-owning households in Ghana have their land and houses in the men's name only [2]. The Forest Investment Program – FIP – together with Ghana's Ministry of Lands and Natural Resources, the national Cocoa Board and other agencies, is helping reverse this imbalance for female cocoa farmers. The FIP is investing in Climate Smart Cocoa, which focuses on planting shade trees in cocoa farms (see this blog post about Climate Smart Cocoa in Ghana).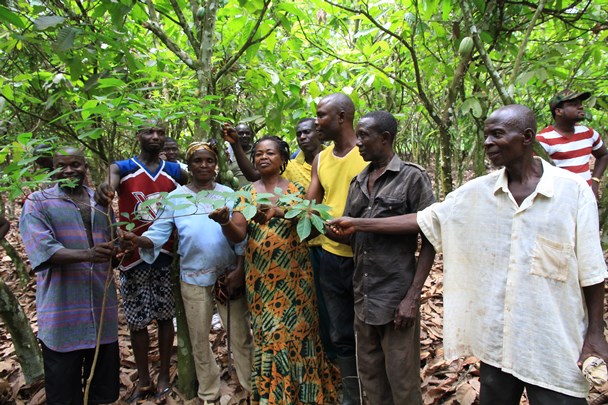 The FIP, through Ghana's Forestry Commission, gives shade tree seedlings at no cost to cocoa farmers. Some of the species of indigenous trees used are: Terminalia Superba, Terminalia Ivorensis, African Mahogany (Khaya Ivorensis). 
With the new tree tenure policies introduced by the FIP, male and female cocoa farmers can now register each individual shade tree under their name. By doing this, they are securing the ownership and rights of each tree and reducing gender-based social and economic exclusion. Each shade tree represents a high value timber asset for cocoa farmers, which they can liquidate once maturity is reached.
The FIP also strengthens more inclusive tree tenure arrangements by supporting expanded participation of women in local forest governance, for example Community Forest Committees. Such multi-pronged efforts are at the heart of the upcoming CIF Gender Action Plan – Phase 2, in support of all of CIF's climate mitigation and adaptation investments.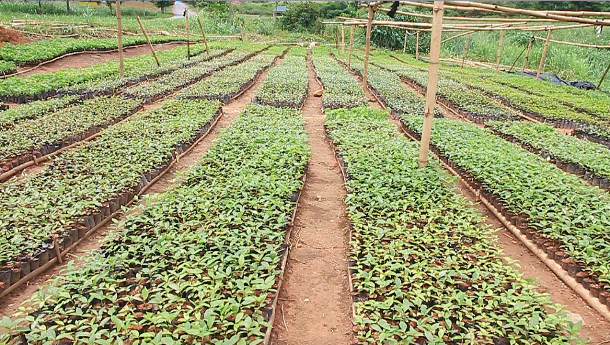 In addition to the economic benefits of the shade trees, Climate Smart Cocoa practices offer improved yields, and greater protection against capsid attacks on cocoa trees, which implies reduced use of pesticide. Other benefits include better soil protection and enhanced biodiversity in cocoa farms.
When asked about shade trees and the tree tenure system in cocoa farms, female farmers said that they now have hope. With better cocoa yields, and the secure asset of shade trees, female farmers can plan for a better future for them and their families.  
___
FOOTNOTES
[1] Rünger, M. 2006. Governance, Land Rights and Access to Land in Ghana – A Development Perspective on Gender Equity. Paper presented at the 5th FIG Regional Conference, Promoting Land Administration and Good Governance, Accra, Ghana, 8-11 March 2006
[2] Oduro, A. D., W. Baah-Boateng, and L. Boakye-Yiadom. 2011. Measuring the Gender Asset Gap in Ghana. Research Report, University of Ghana.