100 Resilient Cities (100RC) — pioneered by the Rockefeller Foundation — is dedicated to helping cities around the world become more resilient to the physical, social and economic challenges that are a growing part of the 21st century.
What is city resilience? The city's ability to maintain essential functions when is threatened by both acute shocks and chronic stress.  It is the capacity of a city to function, so that citizens survive and thrive no matter what stresses or shocks they encounter.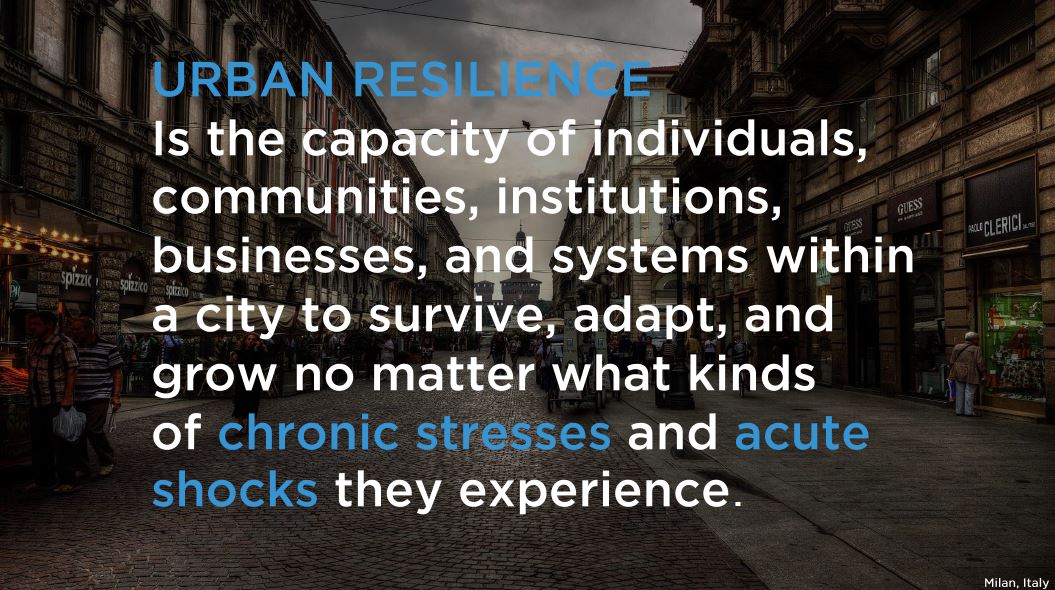 The 100 Resilient Cities Challenge seeks to find 100 cities that are ready to build resilience to the social, economic, and physical challenges that cities face in an increasingly urbanized world. 100RC selected its first group of 32 cities in December 2013 and announced 35 new cities in December 2014 (see map below). The last round of application has just closed and the vetting process will be completed by April 2016 when the last 33 selected cities will be announced.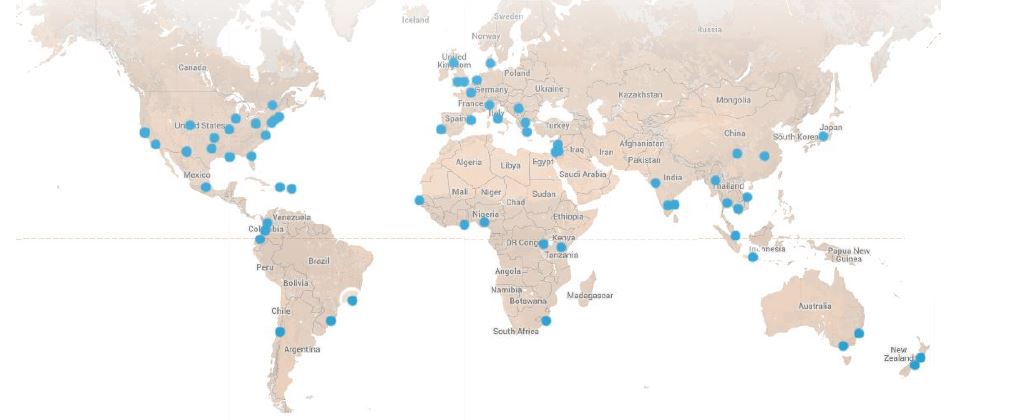 67 selected cities from the first two rounds of application
Selected Cities in the 100RC network are provided with the resources necessary to develop a road-map to resilience along four main pathways:
1. Financial and logistical guidance for establishing an innovative new position in city government, a Chief Resilience Officer, who will lead the city's resilience efforts;
2. Expert support for development of a robust resilience strategy;
3. Access to solutions, service providers, and partners from the private, public and NGO sectors who can help them develop and implement their resilience strategies (Resilience Building Tools and Services);
4. Membership of a global network of member cities who can learn from and help each other.
The 100RC has also developed a framework that gives cities a tool to understand their resilience to share urban planning, practice and investment. The City Resilience Framework  is built on four essential dimensions of urban resilience: Health & Well-being; Economy & Society; Infrastructure & Environment; and Leadership & Strategy. Each dimension contains three "drivers," which reflect the actions cities can take to improve their resilience. You can find the City Resilience Framework attached to this post.