Confronting the Jobs Impacts of COVID-19 (Coronavirus) < Blog Series
Confronting the Jobs Impacts of COVID-19 (Coronavirus)
Author: Michael Weber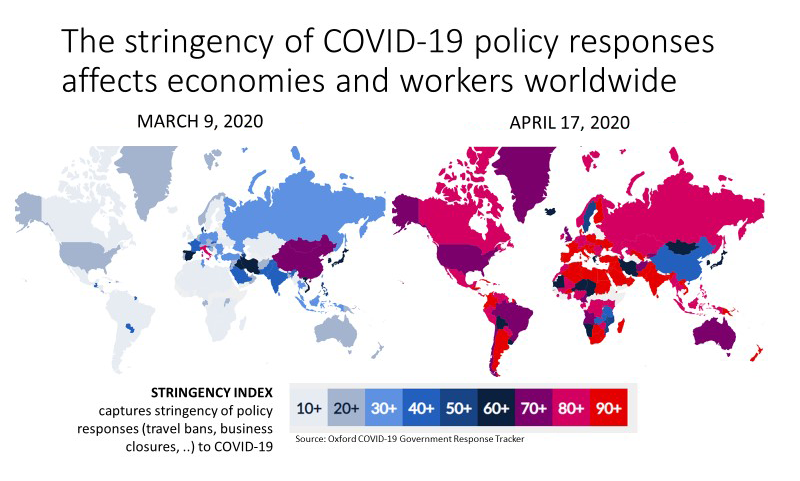 As the COVID-19 (Coronavirus) pandemic spreads relentlessly across the globe, the spillover could be enormous, especially in Low Income Countries (LICs) with rudimentary public health networks, fragile economies and incomplete social protection systems.
With the pandemic now starting to gather momentum in Africa, repercussions from the unprecedented downturn in the Organization for Economic Co-operation and Development (OECD) economies are already impacting jobs in the global south. Huge negative capital flows have rocked emerging economies. Attempted lockdowns have generated major disruptions in economies characterized by high levels of informality and fractured, incomplete social protection systems. In such settings, measures intended to "flatten the curve" of viral transmission might have generated increased transmissions, as thousands of informal migrant workers have crowded together trying return home. And where such internal migrants play key roles in economic life, the disruption of labor supplies is affecting harvests and food production.
In the absence of adequate public policy responses, there is no guarantee that these effects will be limited to a transitory, "V shaped" downturn. Rather, the world economy seems to be facing a deep, "U" shaped recession, or even an "L – shaped" recession, with no obvious end point, like the great depression of the 1930s.
So, what can governments and international organizations do right away to support workers and firms to navigate the COVID-19 crisis, preserve jobs and incomes and prepare the way for a rapid recovery?
A month ago, the World Bank's Jobs Group started a blog series on employment policy options for the COVID-19 crisis. The series draws on best practices learned from previous crises. But it takes account of what changes in a crisis rooted in a health emergency that calls for people to work from a distance or not at all. It also highlights options for the labor markets of low and middle-income countries with high rates of informal firms and workers.
We hope these blogs are useful. In our upcoming blogs we will discuss further policy options to mitigate the job crisis and prepare for the recovery. Topics will include: the gender dimensions of the COVID-19 jobs crisis; the role of remittances and migrant workers; or how to reinsert workers into the labor market through training and other activation programs.