Blog » [Archived Webinar] Achieving transformational change in climate change mitigation through Results-based financing
[Archived Webinar] Achieving transformational change in climate change mitigation through Results-based financing
Created Jun 07 2017, 12:00 AM
by
Hywon Cha Kim
OBA RBF Knowledge Hub
Climate Change
Watch the archived webinar:
Achieving transformational change in climate change mitigation through Results-based financing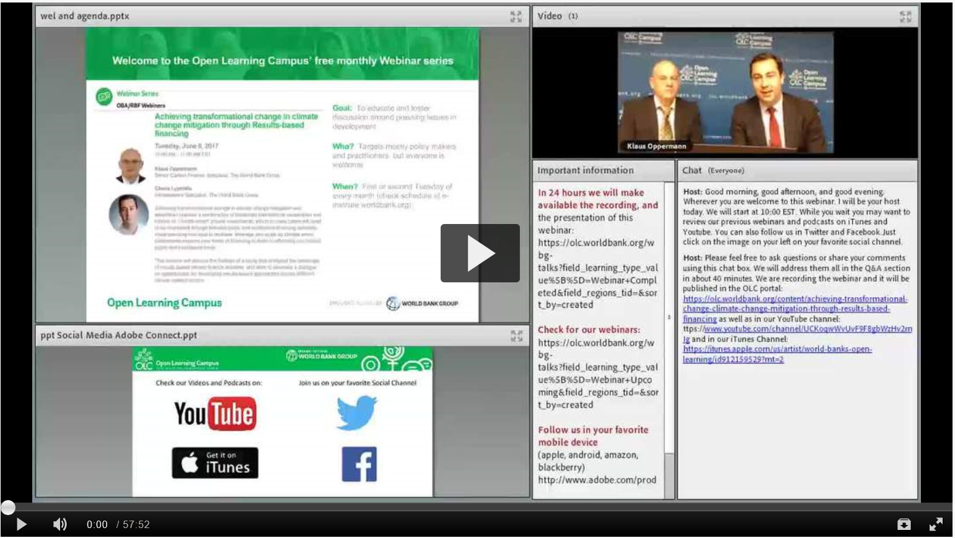 And listen to the podcast: June6-2017-Podcast

[Webinar Presentation] Achieving Transformational Change in Climate Change Mitigation Through Results-Based Financing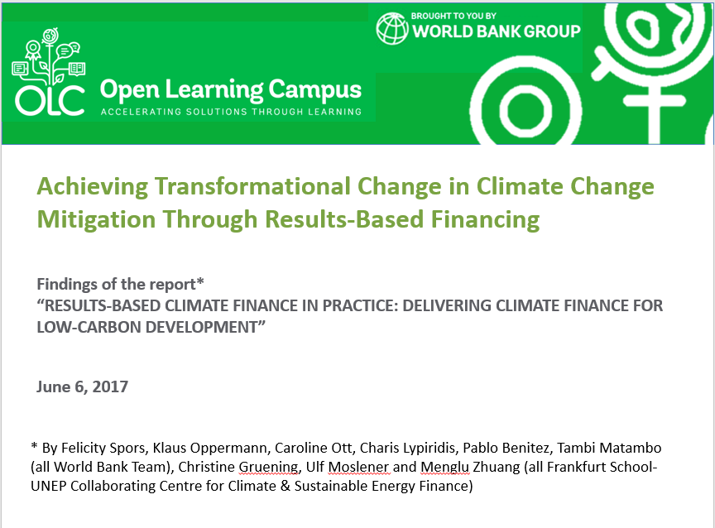 This webinar series introduces innovative financing mechanisms that contribute to development solutions, linking needs, objectives and actual results. This series will focus on Results-based financing (RBF), in particular, which has emerged as an important tool for financing basic services because it changes the focus from inputs – funding given in advance for expected results – to verified outputs. As a center of expertise for RBF, the Global Partnership on Output-Based Aid (GPOBA) brings together practitioners and development partners to share results, experiences and lessons on RBF.
Achieving transformational change in climate change mitigation and adaptation requires a combination of enhanced international cooperation and trillions of "climate-smart" private investments, which in many cases will need to be channeled through blended public and multilateral financing schemes. Understanding how best to mobilize, leverage and scale up climate smart investments requires new forms of financing in order to efficiently use limited public and multilateral funds. 
Results-based Climate Finance approaches, under which funds are disbursed by an investor or donor to a recipient upon the achievement of a pre-agreed set of results, with achievement of these results being subject to independent verification have the potential to mobilize private investment, creating new markets relevant for low-carbon development, enhance recipient ownership of mitigation and adaptation actions and support the scaling-up of activities.  This webinar will discuss the findings of a study that analyzed the landscape of results-based climate finance activities, and aims to stimulate a dialogue on opportunities for developing results-based approaches across different climate-related sectors.
Have a question? Ask it >>here
Engage with the speakers or community:           Ask a question or start a conversation here!