What is REDD and REDD+?
Deforestation and forest degradation can be attributed to agricultural expansion,  conversion of land to pastureland, the development of infrastructure, destructive logging practices and 'slash and burn' techniques for land clearing; this leads to large number of GHG emissions.
REDD is "an effort to create a financial value for the carbon stored in forests, offering incentives for developing countries to reduce emissions from forested land and invest in low-carbon paths to sustainable development." REDD+ goes beyond deforestation and forest degradation, and includes "the role of conservation, sustainable management of forests and enhancement of forest carbon stocks." It is, therefore, more inclusive than REDD. REDD+ improves climate resilience through the protection of ecosystems and the offer of viable and sustainable livelihoods through agroforestry and other sustainable forestry techniques.
Technical and financial support: A number of NGOs, development agencies, research institutes and international organizations offer technical and financial support to developing countries that wish to engage in REDD and REDD+ activities. Primary donors include the World Bank's Forest Carbon Partnership Facility (FCPF), the UN-REDD Programme, the Forest Investment Programme (FIP) and Norway's International Climate and Forest Initiative.
Current Status: Currently the Programme supports 44 partner countries in Africa, Asia-Pacific and Latin America. Sixteen of those forty-four countries are receiving support for "National Programme" activities that assist with the development and implementation of National REDD+ Strategies. To date USD67.3 million has been distributed for National Programme Activities. Donor contributions from Denmark, Japan, Norway and Spain now total USD118.3 million, with Norway as the largest donor.
Guyana: REDD+ Investment Fund (GRIF)
Project Scope:
Established in October 2010, Guyana REDD+ Investment Fund (GRIF) aims to reduce deforestation and forest degradation in Guyana by financing the related REDD+ capacity building and implementation activities.
RBF features:
The two types of activities financed by GRIF based on RBF occur on two levels. From the perspective of the Guyana government, the programme has conditionality element (proper capacity is needed before REDD+ activities can be carried out). Countries need to have proper capacity in policy making and MRV, etc. before being eligible to get funding for projects and activities. For the implementing entities, the results-based element is that payments are made against verified results, e.g. reducing deforestation rate. 
Climate RBF Features: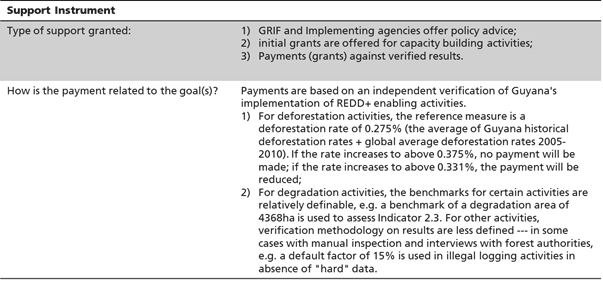 References:
Frankfurt School, Case Study: Guyana REDD-Plus Investment Fund (GRIF), 2012
Verification of Interim REDD+ Performance indicators under the Guyana-Norway REDD+ partnership
COP Work Programme on REDD Finance
Overview:
By decision 1/CP.16 the Conference of the Parties (COP) requested the AWG-LCA to explore financing options for the full implementation of the results-based actions referred to in paragraph 73 of the same decision.
The COP decided that the aim of the work programme is to contribute to the ongoing efforts to scale up and improve the effectiveness of finance for REDD-plus activities, taking into account decision 2/CP.17, paragraphs 66 and 67.
The work programme addressed options to achieve this objective, taking into account a wide variety of sources as referred to in decision 2/CP.17, paragraph 65, including:
  (a). Ways and means to transfer payments for results-based actions;
  (b). Ways to incentivize non-carbon benefits;
  (c). Ways to improve the coordination of results-based finance;
Find more details below: