Munich Is Building Affordable Housing Atop Parking Lots
A new plan for low-rent apartments takes advantage of all that unused space devoted to cars.
Original post: http://www.citylab.com/cityfixer/2016/03/munich-affordable-housing-parking-lots-rent-germany/472515/?utm_source=SFTwitte…
In Munich, the days when parking space was allowed to gobble up large chunks of city land may be ending. Like most thriving Western metros, Germany's third-largest city is desperate for new housing but doesn't have a whole lot of undeveloped space left. The answer, say Munich's governing Social Democrats, is to build above parking lots, burying the city's land-hogging car spaces under buildings filled with affordable housing.
This is the sort of bright idea many cities might float without necessarily taking action, but Munich is putting some of its money where its mouth is. This month, the city announced a plan to build a 120-unit apartment complex atop a swimming pool parking lot. It's not just the location that's innovative. Instead of a standard steel frame, the new building's four floors will be built using wood. Thanks to substantial off-site prefabrication, the building could be ready for tenants as early as Christmas.
The new building is located on a site that's obviously ripe for sensitive development, next to a large swimming complex that was one of the venues for Munich's 1972 Olympics. As you can see from this Google Street View shot of the current parking lot, there's ample space for a midsized building flanked by parkland without overshadowing the neighbors, and tenants will get to enjoy a shady public garden directly in front. Even with cars entering the lot below the building, this should be a pleasant, relatively calm place to live.
One new apartment building doesn't represent a sea change in itself. Part of the city's intention with this pilot project is to create a best practice for future parking lot construction schemes. With this successful project under its belt, Munich would have a model to help its negotiations with large parking lot owners, such as big-box grocers, who could profit by having new residents located right at their doorstep. Building above parking spaces rather than removing them altogether might make it easier to find willing hosts.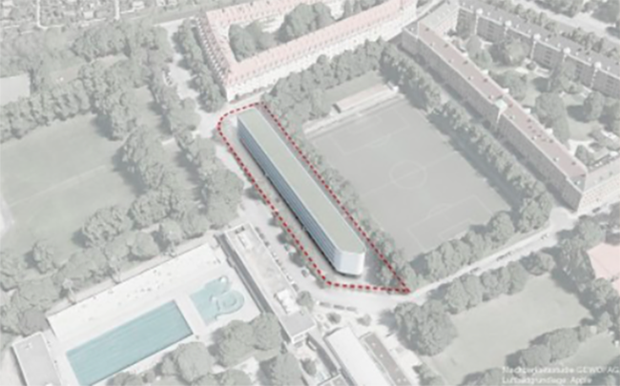 A preliminary rendering of the new wooden housing project. (SPD Munich)
Much of the force behind these plans to create more affordable housing comes directly from public pressure. A recent survey shows that Munich residents are more pessimistic about their ability to find affordable housing than people in any other European city, after Paris. That doesn't mean that Munich's apartments are the second-least affordable in Europe (they aren't), but it does gauge the level of local dissatisfaction.
These fears have bubbled over into frustration about under-used land. Sick of watching rents rise while prime site remains undeveloped, a citizen group has taken action to collect, name, and shame all on Munich's untenanted sites, all listed on this map. Called Leerstand089—"Vacancy089," after Munich's 089 telephone area code—the group has a website where citizens can log buildings they believe have been left empty by their owners. The group then verifies the vacancy and presents the findings to the city, encouraging action to get the building tenanted once more.
Leerstand089 has already succeeded in getting several buildings back on track for occupation. The latest is this building of 530 square meters (5,700 square feet) that's been purchased by the city's public housing cooperative and now hosts 11 subsidized rental apartments.
It's affordable housing like this that the parking lot project is designed to unlock for the city. To keep costs down, the apartments will be solid but no-frills, without additions that push them into a higher band where German rent-stabilization laws say a higher rate is justifiable. Crucially, the new apartments in the wooden-building project will be intended for rent and targeted at the less wealthy, characterized by newspaper Süddeutsche Zeitung as:
Trainees, students, people in their first jobs, people on low or regular incomes and also refugees who have to stay but can't find accommodation.
Ironically given the location, there's something else that new tenants may need to do without: parking spaces. The lot below the building is designed to serve the swimming complex, not future tenants. In a city with excellent public transit like Munich, that's not a problem. Indeed, the parking lot housing scheme is prompting local commentators to challenge the idea of parking minimums for new housing. As Süddeutsche Zeitung's Kassian Stroh argues:
Speaking simply, every building constructor generally has to provide a parking space for each new apartment. What is reasonable in principle is in reality absurd when about 40 percent of parking spaces stay empty in public housing projects — simply because many residents cannot afford a car. This sort of parking space must as a rule be excavated, and so it is crazily expensive. … Do we really want to cut space for people just to make more space for cars?
Right now, Munich may be thinking about how to increase housing while keeping parking spaces in place. In the future, these parking spaces themselves could well be on the way out.