Mobile Enabled Community Services
Snippets from the Energy + Mobile for Development Seminar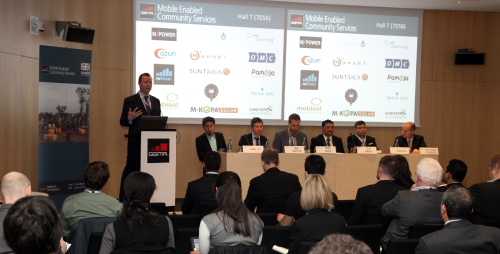 GSMA's M4D brand new Mobile Enabled Community Services (MECS) programme did its first steps at MWC.
The MECS seminar – at 9am on the first MWC day – kicked off the programme and despite the early hour, the room was full, with over 150 attendees representing every continent and every sector of the Telecom industry.
Chris Locke, Managing Director of GSMA M4D, introduced the seminar by presenting the programme's objective: to find ways for the mobile industry to provide access to both energy and water services in off-grid areas. Building on the strong foundation of the Green Power for Mobile and the Community Power from Mobile Programmes, MECS brings to the forefront two realisations:
Energy is the backbone of the mobile industry, without it, the mobile's added value ends there
Mobile infrastructure is often available in the most remote areas: more people today are covered by mobile networks than have access to energy and water, with a total estimated addressable market of 575 million people.
With this in mind, Jose Maria Figueres, President of the Carbon War Room, opened the discussion on the potential of the mobile phone as an efficient weapon in the war to reduce poverty and carbon emissions – a potential MECS embodies. JM Figueres then pointed at one of the main challenges of taking the discussion out of the CSR department into the business development strategy of the Telecom industry.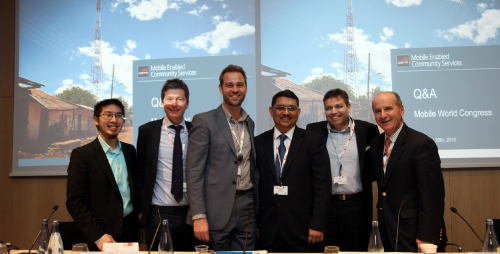 The panel composed of five forward-looking entrepreneurs – operators, vendors and energy service providers – D.S Rawat, CEO of Bharti Infratel, Anil Raj, CEO of OMC Power, Joe Griffin, Group Environment Manager at Vodafone, Mike Lin, Co-founder of Fenix International and Jesse More, founder of M-KOPA. Each explained how they are tackling this challenge, stimulating innovation to create business models which deliver both commercial and social value.The speakers sparked a rich conversation so I will stress only a few key points and attach below both the seminar's video as well as each of the speakers' presentations.
Need for leadership
Champions are necessary to lead the way in innovation. For example, ten years ago operators could not conceive the idea of sharing their towers, while tower companies are now increasingly moving into a RESCO model, partnering with energy service companies to provide power through a distributed generation approach, using clean and renewable energy sources.
Creating a win-win situation
The MECS model provides a win-win situation as the community receives better and more sustainable services while operators benefit from an improved regulatory environment, a boosted local economies and reduced OPEX (up to 61% according to Vodafone).
"Spend shifting"
For the community as well as the vendors, the objective is to shift the spending, i.e. redirecting, as well as reducing, spending on kerosene or diesel and instead investing in available renewable energies such as wind, solar or biomass.
It is necessarily about providing un-expensive products as "the poor cannot afford cheap". Investments in robust technology, after sales services, and data usage are a requirement for the services to be used and scale.
Role of mobile
The mobile phone allows scale by "cutting the cord" and going wireless
The mobile, but more importantly the Value Added Services "piggy-backing" on top of it, have to potential to create a "mobile energy model" highlighting synergies between energy and mobile.
Challenges
Establishing a reliable, trusted and extended distribution network
Creating brand loyalty in order to develop a relationship and trust with the customer
Invest in data services to know your customer and respond to his needs
Avoid making assumptions about communities' local need
The MECS journey is only beginning, leveraging mobile infrastructure and technology to deliver energy and water access to off-grid communities, empowering them and providing with ways to increase their revenues. Service providers are already developing new services beyond mobile phone charging, such as lighting, cooling or water metering, using renewable energy sources.To conclude Jose Maria Figueres highlighted the shift from Person-to-Person to Machine-to-Machine (M2M) communication services – a market representing a trillion dollar and a 9 giga tons CO₂ reduction per year by 2020 according to CWR's report.The time is right, it is now up to the stakeholder community – private sector leading the way – to realise the potential of mobile to increase the telecommunications' business case in the emerging markets while having a positive social and environmental impact.
Please find below the presentations and videos of speakers:
View the full recording of the seminar below