STORY HIGHLIGHTS
Led by the World Bank, the Global Platform for Sustainable Cities (GPSC) is a forum for knowledge sharing and partnership to achieve urban sustainability.
The GPSC promotes an integrated approach to urban development, focusing on urban sustainability indicators, planning and financing.
---
ContextThe world is urbanizing at a rapid pace. Already more than half of the global population lives in cities, and this number is expected to increase to two thirds of the global population by 2050. The vast majority of this growth will be concentrated in developing countries, with nearly 90% of the increase occurring in Asian or African cities.In addition, cities are currently responsible for 2/3 of the world's overall energy consumption and an estimated 70% of all greenhouse gas emissions. With developing countries experiencing unprecedented urban growth, efforts to build livable and sustainable cities are hampered by mounting challenges in areas like water supply and sanitation, waste management,transport infrastructure and services, energy supply, as well as climate change. Integrated urban planning offers a unique opportunity for cities to realign their growth trajectories onto a more sustainable, resilient, and inclusive path.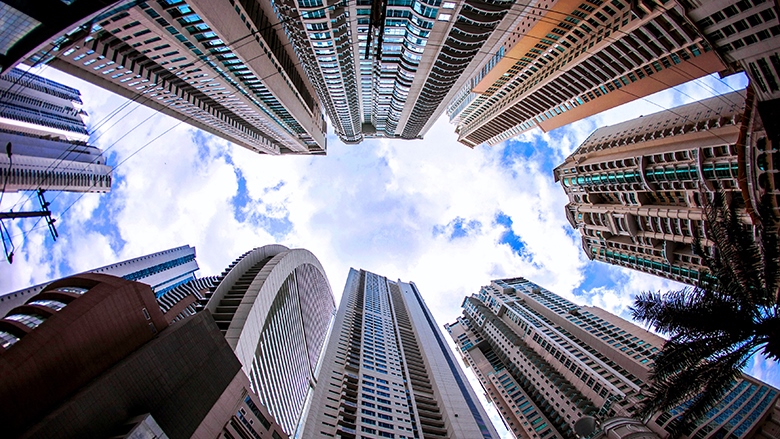 Strategy
Against this backdrop, the

Global Platform for Sustainable Cities (GPSC)

was launched as part of the Sustainable Cities Integrated Approach Pilot (SC IAP) supported by the Global Environment Facility, to provide a more holistic approach to urban development rather than through a sectorial or "project-by-project" approach. Specifically, the GPSC supports the following activities:
Use of geospatial data/ integrated urban planning tools;
Establishing or enhancing a set of indicators for urban sustainability, including the core indicators for achieving the UN Sustainable Development Goal 11;
An assessment on urban sustainability;
Preparation of action plan to improve urban sustainability; and
Activities to enhance municipal financing and identifying priorities for investment.
GPSC Support to Participating Cities with Partnership Organizations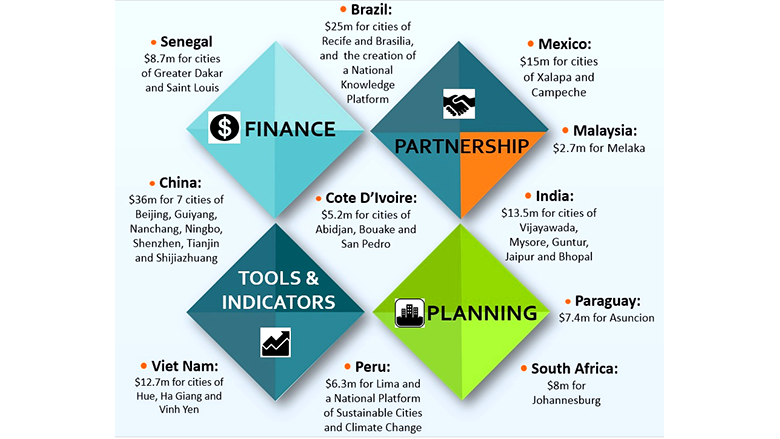 The GPSC covers around 30 cities across 11 pilot countries: Brazil, China, Cote d'Ivoire, India, Malaysia, Mexico, Paraguay, Peru, Senegal, South Africa, and Vietnam. Each country is supported with designated GEF grant that are executed by one or several implementing agencies (for the participating cities and their activities, see GPSC Program Booklet).
As an inclusive global platform, the GPSC is open to involve other interested cities, organizations and practitioners in its activities and learning events.
---
" Linking knowledge to finance is critical to directing investment flows to quality and sustainability. We see this platform as a great opportunity to connect cities not only to cutting-edge knowledge, but also to development banks and financial institutions. "
---
" If planned and managed well, compact, resilient, inclusive, and resource-efficient cities can drive development, growth, and the creation of jobs, while also contributing to a healthier, better quality of life for residents and the long-term protection of the global environment. "
---
GPSC and climate changeCities are hotspots for global emissions and climate vulnerability. In the last 10 years, the World Bank commitments for cities has almost doubled, to an annual average of $4.11 billion (FY09–13). The urban strategy aims to ensure that urbanization is managed for resilient, inclusive, and sustainable growth. As part of the World Bank Group's new Climate Change Action Plan, the GPSC will serve as a key knowledge platform to connect and support cities to integrate climate into urban planning.Learn moreTo learn more about the program, please view:
First Meeting of GPSC in Singapore (March 2016): The First Meeting of the GPSC brought together around 30 subnational governments and over 200 participants from developed and developing cities, international organizations, and financial institutions for a series of working groups, learning events, and site visits. The event was a great opportunity for knowledge exchange and networking, covering topics from flood risk management, urban indicators and geospatial tools, transit-oriented development, to climate change and urban finance. Click here for the meeting summary.
PartnersThe Global Platform was designed to coordinate and integrate existing efforts in urban sustainability. As such, the GPSC is implemented by the World Bank Group in close collaboration with a growing network of partners, including:
The Global Environment Facility (GEF) (core funding partner): The GEF is a multi-donor trust fund that provides technical assistance and funding to help countries tackle pressing, global environmental issues while supporting national sustainable development initiatives.
Implementing agencies that support participating cities: United Nations Environment Programme (UNEP), Development Bank of Southern Africa (DBSA), United Nations Development Programme (UNDP), African Development Bank (AfDB), Asian Development Bank (ADB), Inter-American Development Bank (IDB), United Nations Industrial Development Organization (UNIDO)
Other partners: UN Habitat, World Resources Institute (WRI), C40 Cities Climate Leadership Group, ICLEI - Local Governments for Sustainability, 100 Resilient Cities, European Bank for Reconstruction and Development (EBRD), World Council on City Data (WCCD), European Space Agency (ESA), Food and Agriculture Organization (FAO), Energy Sector Management Assistance Program (ESMAP), and Centre for Liveable Cities Singapore (CLC), among others.