Recognizing the importance of partnering with Indigenous Peoples (IPs) in fighting poverty and boosting shared prosperity, the World Bank convened a workshop on October 20, 2016 with 20 IP representatives and leaders on how Bank programs can better address the diverse needs of IP groups, continuing the conversation started during the Bank's high level dialogue with IPs in April 2015. 
"The only way we can get out of poverty is for the [World Bank's] programs to capture our realities and needs," said one IP representative.
The World Bank has increasingly prioritized engaging IPs and their communities as it seeks to cover the "last mile" of development. Indigenous communities are among the most disadvantaged and vulnerable groups, often living in hard-to-reach areas, struggling for legal recognition of customary land tenure, and facing exclusion, negative stereotyping, and discrimination. While only numbering around 5 percent of the world's population, IPs make up 15 percent of the world's extreme poor; in some regions, this percentage can go as high as 70 percent.
Maninder Gill, the World Bank's Director for Social Development, urged participants—who represented IP communities from across Africa, Asia, and Latin America—to think globally on how to address challenges common to all marginalized communities. "It's our collective responsibility to think of all IPs," he said. "The needs of one group could be very different from the needs of another."
World Bank project leaders Dianna Pizarro, Sean Bradley, and David Tuchschneider then presented on Bank approaches and programs that work with IP communities. The World Bank is best known for its robust set of social safeguards that include an operational policy on IPs, but also supports programs with specialized approaches, such as productive alliances, community engagement, and community-driven development (CDD), an approach that gives control over planning decisions and investment resources for local development projects to community groups, are key elements.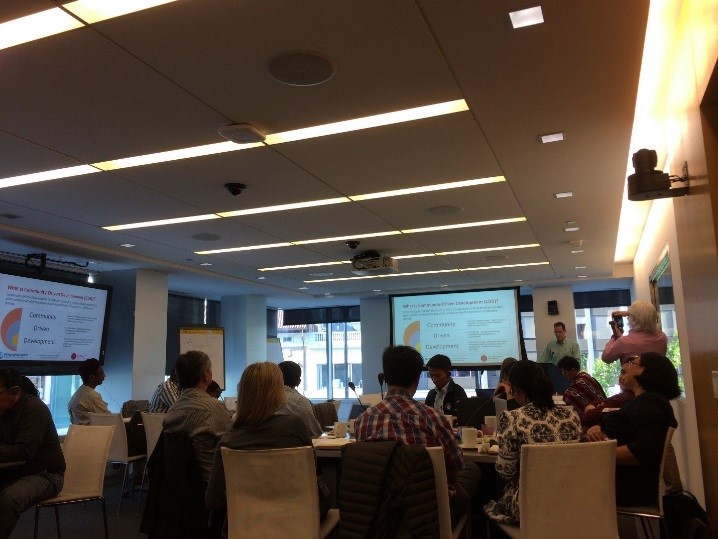 Community-driven development's strengths, such as empowering communities themselves to identify their priority development needs, facilitating basic service delivery in remote areas, and working with diverse, heterogeneous communities and vulnerable groups, help address many of the unique challenges that IPs face. The approach is already used successfully in Nepal, Brazil, Vietnam, Myanmar, India, and Bolivia, among other places, to engage with IP communities.
Part of the workshop's goal was to engage with IP communities on how to improve the responsiveness of Bank programs to IPs.  "How can IPs help us improve our programs?" asked Luis-Felipe Duchicela, the World Bank's IP Adviser, after he presented on the Bank's global engagement with IPs. "How can those projects improve the inclusion of IPs?"
Besides grappling with how to develop a way that IPs communities, who represent a diversity of cultures, needs, and challenges, can effectively bridge their communities' needs and Bank operations, participants from each region also discussed how to build stronger, more responsive programs and next steps in formalizing their dialogue with the Bank.
While much remains to be done, representatives agreed that the Bank's engagement with them was essential in empowering their communities. "We are grateful that the World Bank has included us in the dialogue around its policies and programs," said a participant in her closing remarks.
For a summary of the proceedings, click here.