The conflict in eastern Ukraine, now in its fourth year, has killed over 10,000 people, displaced 2.7 million, and directly affected over 4 million people. Besides the human cost, the conflict has stunted economic development in the country and contributed to loss of jobs, reduced service delivery, and overtaxed social protection systems. The crisis has resulted in calls for a cohesive, coordinated, and sequenced approach that bridges the continuum between humanitarian response and economic recovery and development and provides effective solutions to address the socio-economic impacts of displacement for internally displaced persons (IDPs), veterans, and host communities.
In light of this conflict, the Ukrainian government established the Ministry for Temporary Occupied Territories and Internally Displaced Persons of Ukraine, led by Vadym Chernysh, to develop policy and coordinate implementation of a range of humanitarian, peacebuilding, and recovery initiatives geared towards strengthening the potential for domestic conflict resolution, sustaining peace and development, and improving the resilience of host communities and integration of IDPs and veterans.
On May 8, 2017, the Community-Driven Development (CDD) Global Solutions Group organized a meeting with Minister Chernysh and other representatives of his ministry who were visiting the World Bank. The Minister and his delegation met with Susan Wong, CDD Global Lead, and other World Bank staff members to learn about CDD approaches and lessons learned when applied in conflict-affected and displacement settings, including Azerbaijan, South Sudan, and Jordan. Given Ukraine's recent decentralization reform, Susan Wong also outlined the role of CDD in decentralization and building local government capacity.
Robert Wrobel, Task Team Leader of Azerbaijan's IDP Living Standards and Livelihood Project (LSLP), discussed how the program, now in its second phase, is improving the economic prospects and living standards of IDPs who have been displaced for decades. Nearly 7% of the country's population was displaced during a war that lasted from 1988 to 1994, and many are still housed in temporary and substandard living conditions. The project has seen remarkable gains in monthly household income and improvements in housing and social infrastructure across 690 poor, IDP-hosting communities
.
Vara Vemuru, Senior Social Development Specialist, outlined how the Local Governance and Service Delivery Project of South Sudan is building basic infrastructure while at the same time developing conflict management and community reconciliation capacity across communities in the country. The project works to improve local governance and service delivery in 22 counties across South Sudan and has almost 100,000 direct project beneficiaries including IDPs. These interventions have helped stabilize communities despite recent outbreaks of violence across the country.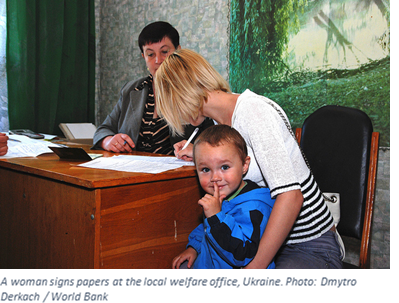 Sima Kanaan, Task Team Leader of Jordan's Emergency Services and Social Resilience Project, discussed how the project has helped build trust in the government and defuse tensions between Syrian refugees and Jordan's host communities. The long-running Syria conflict has displaced millions of Syrians fleeing the violence into surrounding countries, burdening receiving local communities beyond their capacity. The project has reached 1.87 million beneficiaries, of which 300,000 are Syrian, by helping Jordanian municipalities and host communities address the immediate service delivery impacts of refugee inflows and strengthening municipal capacity to support local economic development. The project has helped develop trust in the Jordanian government, which is now seen as more responsive to host community needs.
In the discussion that followed, the Ukrainian delegation outlined some of their most pressing challenges, including ensuring that the needs of marginalized populations, including IDPs, are represented in conflict recovery programs. Communities and technical committees can also differ in opinion over program priorities and what is feasible, complicating implementation. And under recent decentralization reforms, the government has needed to work hard to improve trust between citizens and local government.
The presenters outlined how CDD could help address some of these challenges. CDD's focus on community facilitation, often through a non-governmental organization in conflict contexts, helps build trust between government and communities and ensure that even marginalized populations are included. Certain social development methodologies, such as social mapping, assist illiterate populations in articulating their needs and can help to identify vulnerable populations that are not covered by on-going programs. Additionally, many tools that CDD employs, such as community participation, grievance redress mechanisms, and strong communication at both the national and community levels, can help defuse tensions between the government and communities, build trust, and even encourage accountability around program resources and results.
Even as Ukraine's government seeks the most appropriate instrument for recovery and peacebuilding, they can draw on lessons from how the World Bank's CDD programs deliver critical services to vulnerable groups and help to build social and economic community resilience in other conflict-affected countries.