By Arturo Ardila, Senior Urban Transport Specialist - Latin America and Carribean region, World Bank
August 1, 2013
Original version: How a ramp for people with disabilities can make a difference for a big city | Latin America & Caribbean: Oppor…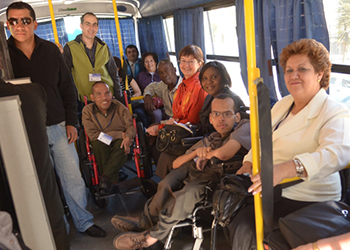 Can a ramp for people with disabilities make a difference in a big city? The answer may seem obvious to many, but I encourage you to read on to find out the complexities and nuances surrounding the issue of mobility in a large Latin American metropolis. This is a true story. I was attending the launch of a project "Mainstreaming Inclusive Design and Universal Mobility in Lima "project -  financed by the Japan Policy and Human Resources Development (PHRD) program and I was surprised to see people in wheelchairs asked to move away from the table where coffee, pastries and fruit were being served during the break.
At the same time blind, deaf and people with cognitive impairments, among other disabilities, were being actively welcomed.
  
About to intervene, I noticed that the waiters were guiding those in wheelchairs to a special area where they were given a small tray to place on their knees with coffee, pastries, and fruit. Approaching  this group, I asked how they were finding the event. They explained they were happy with how carefully it had been organized, showing sensitivity to each type of
disability.
People in wheelchairs are at a disadvantage, I learned, when approaching a table since people on two legs are more able to maneuver and are therefore served first. By the time the people on wheelchairs get there, there is frequently little left. Not here, clearly.
This event also marked the first consultation the $2.5-million PHRD-financed project undertook with Lima's disabled community.
The disabled community will be consulted at every stage of the project's implementation stage. And these consultations will be critical to help the project achieve its objective: improving the Lima's ability to manage the mobility needs of people with disabilities. It also looks to mainstream the needs of disabled individuals when planning and installing sidewalks and public transport facilities. The project includes identifying current limitations faced by the disabled in Lima and developing mechanisms and tools to support inclusive mobility.
The goal is to undertake small construction works to retrofit an initial set of streets to make them universally accessible: installing ramps for wheelchairs (and strollers), podotactile surfaces which allow the visually impaired to feel where the sidewalk ends, and pedestrian crossing which beep when it is safe to cross among others.
The lessons learned from both the pilot and the project will enable Lima to advance faster towards achieving the goal of retrofitting the entire city to make it as close as possible to universal design.
As a signatory of the United Nations Convention on the Rights of Persons with Disabilities, Peru has committed  gradually retrofit public spaces to make them more accessible for people with disabilities.
At the event I spoke about the scope of the project, how consultations were critical to its implementation, and about the pilot to be carried out. I concluded by answering a question that was asked repeatedly during the consultation: who should finance this broad, gradual and mandatory public space retrofit?
Retrofitting an entire city the size of Lima—9 million inhabitants—could cost hundreds of millions of dollars.  Consultation participants were concerned that as those who would primarily benefit from the work, they would have to foot the bill. My answer was categorical: society at large should finance this retrofit, not just the main beneficiary.
Why? One reason is that currently nondisabled people usually earn more. So they can afford to pay more. But the key reasons lie in the modern definition of disability and in one simple fact. The current definition states that disability is when someone tries to interact with an object or infrastructure but cannot carry out its intended task.
If I were to remove my glasses, I would immediately become a disabled person. Without them, I can do very little. The simple fact of the matter is that all of us stand a significant risk of becoming disabled. Aging is one factor, another is mere chance. Accidents happen, people are injured. Paying for the retrofit is therefore like buying insurance to help us all face a reality of life: we will all reach a point most likely where that ramp and that podotactile surface will be quite helpful.