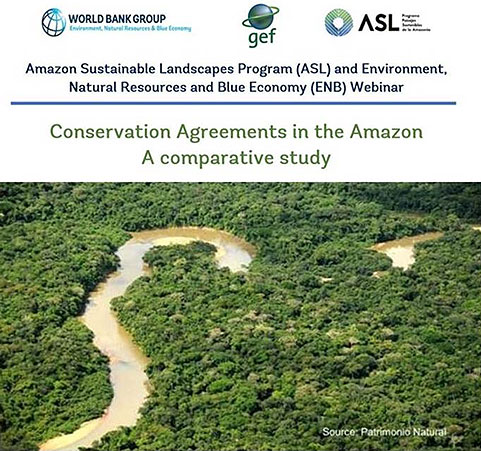 The Amazon Sustainable Landscapes (ASL) Program, financed by the Global Environment Facility (GEF) has the objective to protect globally significant biodiversity and implement policies to foster sustainable land use and restoration of native vegetation cover. The ASL Program is implemented via national projects in Brazil, Colombia and Peru, and a regional coordination project. The World Bank Group as the ASL lead agency, the World Wildlife Fund (WWF) and the United Nations Development Programme (UNDP) are the Program implementing agencies.
The three countries where ASL operates, have launched a range of initiatives to promote conservation and sustainable development in protected and productive landscapes. These include the design and implementation of Conservation Agreement (CA) programs. These programs are based on voluntary agreements that provide legal and de facto landowners with a range of benefits conditional to specified conservation actions or outcomes. The development of CA programs has grown rapidly around the world and several analyses have been developed to assess its effectiveness, not in terms of area enrolled, but in terms of additionality – how much more conservation will happen as a result of the CA program than would have happened without it.
The webinar will present the results of the study developed by Conservation Strategy Fund (CSF) and sponsored by the ASL, to a) identify CA program characteristics that deliver effectiveness; b) assess how these characteristics are taken into account by CA programs in the Amazon regions of Brazil, Colombia and Peru; and, c) provide recommendations regarding opportunities for ASL to support the effective use of CAs in the region. The results of this comparative study will be shared and discussed during this knowledge exchange.
Wednesday, December 11, 2019
9:30am – 11am Washington D.C.
11:30am – 1pm Brasília, Brazil
Join online using Webex
Chair
Adriana Moreira – Senior Environmental Specialist, Coordinator of the Amazon Sustainable Landscapes Program ASL
Speaker
Aaron Bruner – Former Senior Economist of Conservation Strategy Fund - CSF and the person at CSF responsible for the study CSF
Discussant
Giovanni Ruta – Senior Environmental Economist, World Bank Group, WBG