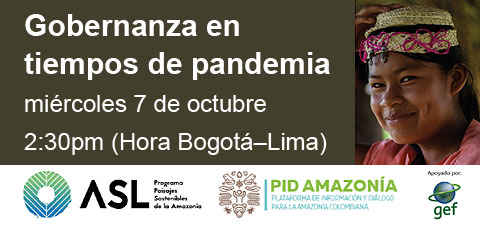 El Programa Paisajes Sostenibles de la Amazonía en colaboración con PID Amazonía le invita a participar en el conversatorio
"Gobernanza en tiempos de Pandemia: Aportes del programa ASL a soluciones colectivas para una recuperación sostenible e inclusiva en la Amazonía"
Miércoles, 7 de Octubre de 2020 a las 2:30 pm (Bogotá/Lima) / 4:30 pm (Brasilia)
El evento se llevará a cabo en español con interpretación en portugués y será transmitido en vivo a través de Youtube y Facebook.
Esta sesión busca compartir los aportes del programa ASL a la situación que enfrentan los pueblos indígenas, las comunidades campesinas, los productores locales y gestores de áreas protegidas de la Amazonía en el contexto de la pandemia generada por el virus COVID-19, desde las diferentes experiencias de los proyectos en Brasil, Colombia y Perú. En un panel con representantes de cada país se expondrá cómo cada proyecto ha implementado medidas y soluciones a los retos que se han ido presentando.
Moderadora
Adriana Moreira, Especialista Ambiental Senior, Banco Mundial
Expositores
Brasil
André Nahur, Director estratégico de la naturaleza por el clima, Conservación Internacional – Brasil

Colombia
Sandra Aristizábal, Asesora de Monitoreo y Evaluación, Área de Ambiente y Desarrollo Sostenible, PNUD
Jany Silva, Presidente, ADISPA
Sandra Biviana Cardona Ospina, Profesional de Estrategias Especiales de Manejo, Parque Nacional Natural La Paya
José Sneider Yaiguaje Vigail, Enlace entre ACIPS (Asociación de Cabildos Indígenas del pueblo Siona) y el Parque Nacional Natural La Paya
Perú
Alison Hospina, Especialista en Interculturalidad y Género de proyectos de ecosistemas, PNUD-Perú
Mauro Pashco, Representante y miembro de la Federación Unión de Nacionalidades Ashaninka y Yanesha, Unay Perú
Zara Sánchez Miranda, Especialista en gestión de Áreas Naturales Protegidas, GEF6-PdP/ SERNANP-Perú
Si desea ser parte de la Comunidad de Práctica ASL, haga click aquí.
Suscríbase a la lista de distribución de correo electrónico enviando un mensaje a asl-info@worldbank.org
----------------English version-----------------
The Amazon Sustainable Landscapes Program in collaboration with PID Amazonia would like to invite you to the webinar
"Gobernanza en tiempos de Pandemia: Aportes del programa ASL a soluciones colectivas para una recuperación sostenible e inclusiva en la Amazonía"
Wednesday, October 7, 2020 at 2:30 pm (Bogotá/Lima) 4:30 pm (Brasilia)
The event will be transmitted live through Youtube and Facebook
(in Spanish with Portuguese interpretation)
This session seeks to share the contributions of the ASL program to the situation faced by indigenous peoples, local communities, farmers and producers and managers of protected areas of the Amazon in the context of the pandemic generated by the COVID-19, from the different experiences of projects in Brazil, Colombia and Peru. A panel with representatives from each country will show how each project has implemented measures and solutions to the challenges that have arisen.
Chair
Adriana Moreira, Senior Environmental Specialist, World Bank
Speakers
Brazil
André Nahur, Strategic Director of Nature for Climate, Conservation International – Brasil

Colombia
Sandra Aristizábal, Monitoring and Evaluation Advisor, Environment and Sustainable Development Area, PNUD
Jany Silva, President, ADISPA
Sandra Biviana Cardona Ospina, Professional of Special Management Strategies, La Paya National Natural Park
José Sneider Yaiguaje Vigail, Liaison between ACIPS (Asociación de Cabildos Indígenas del pueblo Siona) and La Paya National Natural Park
Peru
Alison Hospina, Interculturality and Gender Specialist, Ecosystem Projects, PNUD-Peru
Mauro Pashco, Representative and member of the Federation Union of Nationalities Ashaninka and Yanesha, Unay Peru
Zara Sánchez Miranda, Specialist in management of Protected Natural Areas, GEF6-PdP/ SERNANP-Peru
If you would like to join the ASL Community of Practice, click here and subscribe to the ASL email distribution list by emailing asl-info@worldbank.org
Webinars
Amazon
Protected Areas
Indigenous
COVID-19